Our people are our priority.
We believe that every person should go home free of injury every day.
Underpinning all our operations are robust health and safety policies and practices. We will work with you to proactively identify and manage risk. Everyone in our organisation plays a part in maintaining industry leading health and safety standards that are compliant with today's legislation.
Our practices are designed to drive the prevention of harm. This includes:
Pre-employment checks

Health and safety training through inductions

Regular site audits and toolbox meetings

Providing site specific PPE where applicable

A zero tolerance towards drugs & alcohol

Worker participation programme with health and safety representatives both in our branches and in the field

Health and safety communication to all our branches and workers on key learnings and measures via regular newsletters and alerts

Measurement of key health and safety metrics

Continuous improvement of procedures and policies against our annual action plan and objectives
Health & Safety Golden Rules
To ensure the safety of all our staff we developed our Golden Safety rules which we continually embed into our daily work tasks and our safety discussions. These rules have been determined by the areas of high risk identified within our industry.

​
Be drug and alcohol free at work.
Manage your sleep, rest breaks and hydration to ensure you can work safely.
​
Fitness for work means:
​
You are free from alcohol and other drugs when presenting for work.

You stop work and inform your supervisor if you feel excessively fatigued.

You get enough sleep each night and eat healthy meals.

You drink plenty of water to remain hydrated.
​
If the tasks and duties of your role change from those you were advised by AWF, notify us immediately.
​
If your duties change, make sure:
​
Any change of duties from those advised by AWF, are authorised by your AWF branch before undertaking them.

You have the correct level of competency, skills, and licences to perform any new duties.

You complete a Step Back 5x5 before commencing work.
​
Only drive vehicles you are competent, licenced, and authorised to use. Wear your seat belt and comply with road rules. Observe your surroundings before and while driving.
​
When driving, ensure:
​
You have the correct licence and endorsements, and you are deemed competent prior to driving any vehicle. You must be authorised by the client to drive their vehicles.

You wear your seat belt and observe speed limits, road signs and rules.

You assess the risk and plan any task requiring the operation of vehicles.

You complete a logbook as required when driving class 2, 3, 4 or 5 vehicles.
​
Ensure machinery guarding is in place and observed and you have the necessary training and authorisation to operate the machinery. If you think machinery is inadequately guarded, advise your supervisor and AWF.
​
Before working with machinery:
​
Confirm you have the necessary, training and experience, and you are authorised to operate machinery prior to commencing work.

Ensure you do not operate any inadequately guarded machinery ensuring you report this and any defects or problems with machinery, to your supervisor and AWF.
​
Always report all incidents, including near misses immediately to your supervisor and AWF.
​
Look after you and your team:
​
Complete a Step Back 5x5 prior to commencing work to prevent incidents in the first place.

Report all incidents immediately including near misses to your supervisor and AWF.

Participate in incident investigations as required and any injury rehabilitation process to ensure a timely and safe return to work.
​
Always wear the correct PPE you have been issued for the task. Ensure your PPE is clean and is in good condition.
​
PPE compliance means:
​
You wear the required PPE for the tasks you undertake.

You keep your PPE clean and in good condition.

You inform your AWF branch if your PPE needs replacing.
​
Ensure you have the correct licence and training, and you are competent to operate equipment such as forklifts, scissor lifts, loaders, and diggers.
Never walk directly behind reversing vehicles or equipment and always use a spotter when reversing.
​
Consider your surroundings and ensure:
​
You only operate plant and equipment you are trained and authorised to use.

You use equipment according to client operating procedures.

You conduct pre-start checks and report any faults.

You have your spotter in view when reversing.
​
Warm up and stretch before beginning work and use your legs, not your back, when lifting. Always assess the load and plan the lift. Work in pairs or use machinery if the load is too heavy.
​
Stay safe and remember to:
​
Stop and assess the load. Get help for heavy or awkward lifts.

Consider mechanical aids like trolleys or forklifts to move heavy items.

Ensure you do not overreach to pick anything up and make sure you have a firm grip on the load.

Make sure your body is not twisting when carrying a load. Pivot your feet instead.

Ensure walkways are clear of obstacles.
​
Make sure you have assessed the risk for any work to be done at height and keep clear of suspended loads.
​
Stay safe and remember to:
​
Ensure you do not operate lifting equipment if you are not trained.

Confirm there is a lift plan in place to ensure task safety.

Always use fall protection when working at height.

Keep clear of suspended loads.
​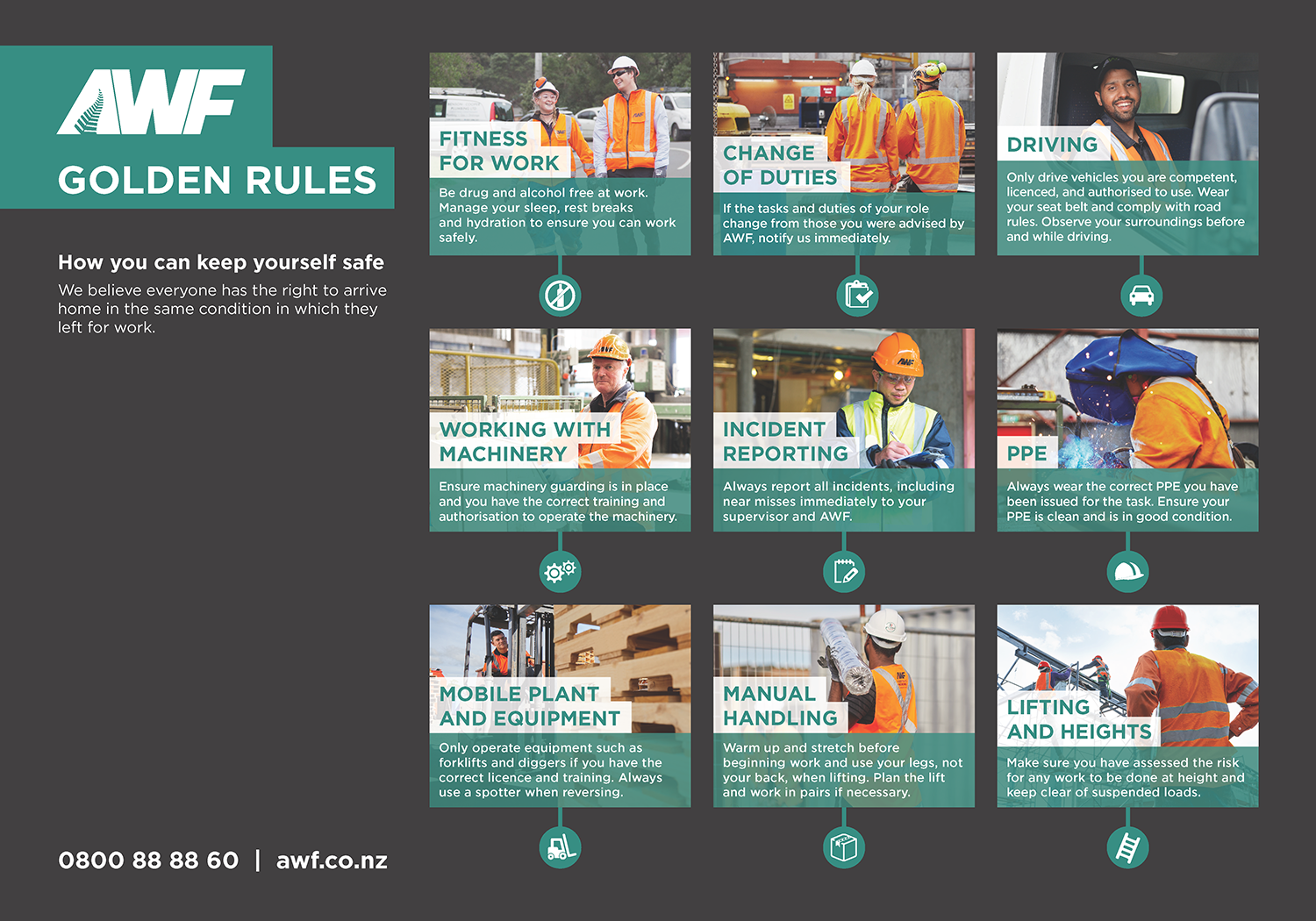 ​
ACC Accredited Employers Programme
We have been a member of the ACC Accredited Employers Programme since 2001 and we were the first recruitment company in the programme.
To be a member of this Programme, AWF has shown that we have:
The appropriate experience in managing occupational health and safety issues

Demonstrated commitment to injury prevention

An understanding and awareness of the importance of rehabilitation

The financial strength and soundness to meet all expected financial and other obligations arising under the Programme